Podcast: Play in new window | Download
Chris is back in studio and the guys start off by not talking sports for the first while; but then they get into some fun sports talk and welcome in comedian Joe Bartnick. If there's anyone that knows more about hockey than Joe Bartnick, we won't believe you. Joe breaks down what Kings have been up to the past week and who he thinks will move on from the first round of the NHL Playoffs. The guys also implement "The Bracket" and this weeks bracket is College Mascots. Hear who wins and get ready to fill out your bracket for next week. New bracket posted every Monday on facebook.com/heroesatthebar.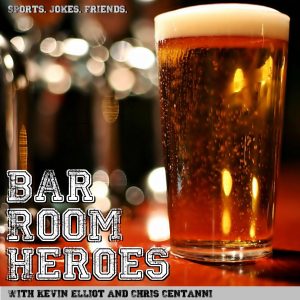 Bar Room Heroes is a comedy/sports podcast hosted by comedians Kevin Elliot and Chris Centanni. Each week the guys discuss the wide world of sports from a comedic point of view.