Podcast: Play in new window | Download
Welcome to the Crichton Cast! This week, the guys take a look at a departure from Crichton's usual Science fiction thriller style to discuss The Great Train Robbery!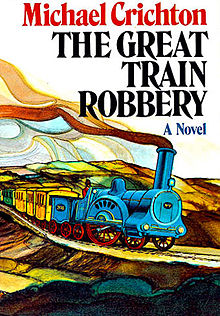 Published in 1975, The novel is a suspenseful tale of a daring high speed train robbery. Loosely based on real events, the book gives us a fairly accurate – as we discuss – glimpse into the history of Victorian England.
Listen as Steven & Eric talk about the novel's Victorian setting, the history, the vivid characters, the story, the writing, and more!
Of course, we also delve into the 1979 Sean Connery driven film known outside of the Unites States as The First Great Train Robbery. We break down many of the differences – good and bad – made for this adaptation of the story.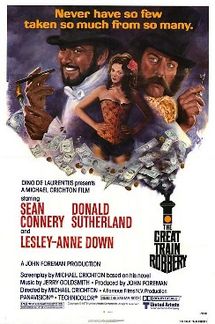 We'll cover the action, the direction, the dialog, and more as we break down the film both penned and directed by Crichton himself.
So sit back, place your bets on your favorite rattin' dog, and enjoy!

If you are reading this you must be a fan of Michael Crichton just as we are. Whether you love the science in his writing, the adventurous places it takes you or just fell in love with dinosaurs on the big screen we will have something for you.
Every two weeks, in a mini-series format Steve and Eric will discuss a book of Michael Crichton's which was made into a movie. Compare both mediums, discuss the good and bad, our takes on what worked and interesting facts. Listen in and discuss with us!
Give us a 'like' on Facebook at http://facebook.com/crichtoncast, and follow us on Twitter @CrichtonCast. You can even leave us a voice mail! Just call 802-JURASSIC (802)587-2774
This Four Eyed Radio Network production is proudly sponsored by RevengeLover Designs! Stand out from the crowd! For samples, and inquires, please visit http://revengelover.com Mention you heard about it on a FERN show, and receive 10% off your order!